Home
Looking to place an order for DANCE FLOWERS?


We've got you covered! Click here to place your order online!
---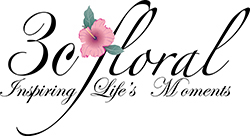 We Want to be Your Florist!
From fresh flower arrangements, to wedding flowers in Payson and funeral sprays in Spanish Fork or funeral arrangements in Provo Utah, our Spanish Fork florists are BEYOND talented!
If you are looking for some AWESOME wedding flowers, you should check out our Instagram @3cfloral and our Facebook page @3cfloral to see some of our designs, there are SO SO many, and we don't have them on this website. Bring us any picture from Pinterest, and we can build it... no seriously, our team of designers is amazing!!
With funeral flowers, we will work directly with you as a client, or we are happy to work through the funeral home that you choose. Whether you have Walker Mortuary in Spanish Fork, Walker Mortuary in Payson, or Berg Mortuary in Provo, it doesn't matter to us! We are happy to deliver any funeral arrangements or standing funeral sprays wherever you would like, and we are happy to help!
Our fresh flower arrangements done by our local florists are so unique! We are up on all of the trends going on in the industry, and sometimes ahead on a few things!
We also have a corporate or business option for you to have fresh flowers dropped off at your business weekly, bi-weekly or monthly. We will also give your employees a discount on their orders if you have a floral business account with us. And there is NO contract. If we are doing a great job, you will keep using us as your florist! Please call to set up a corporate account 801-504-6236.
Thanks again to our local community for letting us be one of your top florists! We wouldn't be here without you!